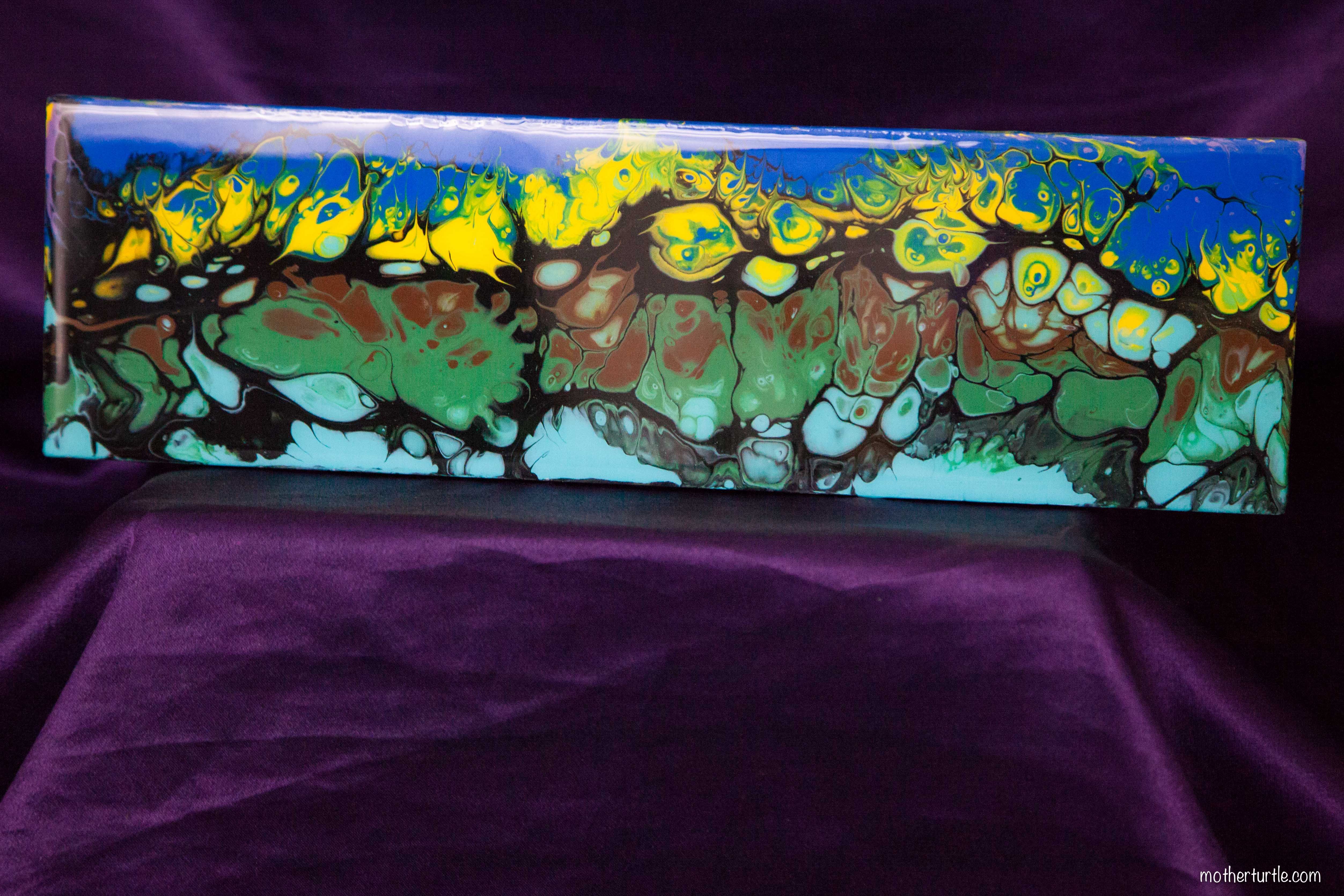 *From a blog by Patricia Fuller: 
The Twelve Steps of Pouraholics Anonymous 
Admitted I am powerless over acrylic pouring—that my life and my Facebook feed has transformed from the quintessential, "I hate Donald Trump and everything he stands for" to a calm, beautiful place of my and others' creative expressions. All day long acrylic pouring art floods my screen, and it makes me happy. I admit that I dream (literally) of pouring; I tap my foot impatiently for my husband to leave in the morning so I can break out a canvas and make something gorgeous; and I no longer care if he hogs the remote control and watches another boring show about physics…because I can watch YouTube videos on my phone with people pouring paint! 
Came to believe that a website... is greater than myself and could restore me to sanity, but I was wrong. It just made me want to try different types of pours or perfect my technique. Let's face it, my sanity was in question to begin with! Keep reading and you will agree. 
Made a decision to turn my will and my life over to the care of Deby Coles, founder of the Facebook group Acrylic Pouring. She is awesome...
Made a searching and fearless moral inventory of myself—and my paint supplies—then went and bought more paint. And some Floetrol. Hmmm, I need more wax paper, and a palette knife. And, oh, hey, are those disposable gloves on sale? 
Admitted to my husband, my daughter, and my mother the exact nature of my wrongs…while I was doing my fourth pour of the day (and it was only 10 a.m.). Hand painting birch trees over an acrylic pour, oooh, ahhh… 
Am entirely ready to have Deby and the Acrylic Pouring staff remove all these defects of character. Especially when I see the male anatomy in sooooo many paintings—too many paintings. A fellow pourer calls this pournography. I'm not looking for them, I promise you! They're just everywhere! 
Humbly asked her to remove my YouTube password because it is interfering with my obsessive YouTube viewing of Wigglz' Art, Nicky James Burch, Sandra Lett, Annemarie Ridderhof, Caren Goodrich, Rick Cheadle, and MelyD.artist, just to name a few. You would die laughing if you saw my feeble attempts at recreating anything done by Wigglz'Art or Sandra Lett. Seriously. I've never let anyone see those disasters. 
Made a list of all persons I had harmed and became willing to make amends to them all. …So I invited them over and we had a pouring party. Coasters for EVERYONE! 
Made paintings for such people wherever possible, except when doing so would injure them or others. Heck, who am I kidding? I made them a painting anyway—buy some health insurance.