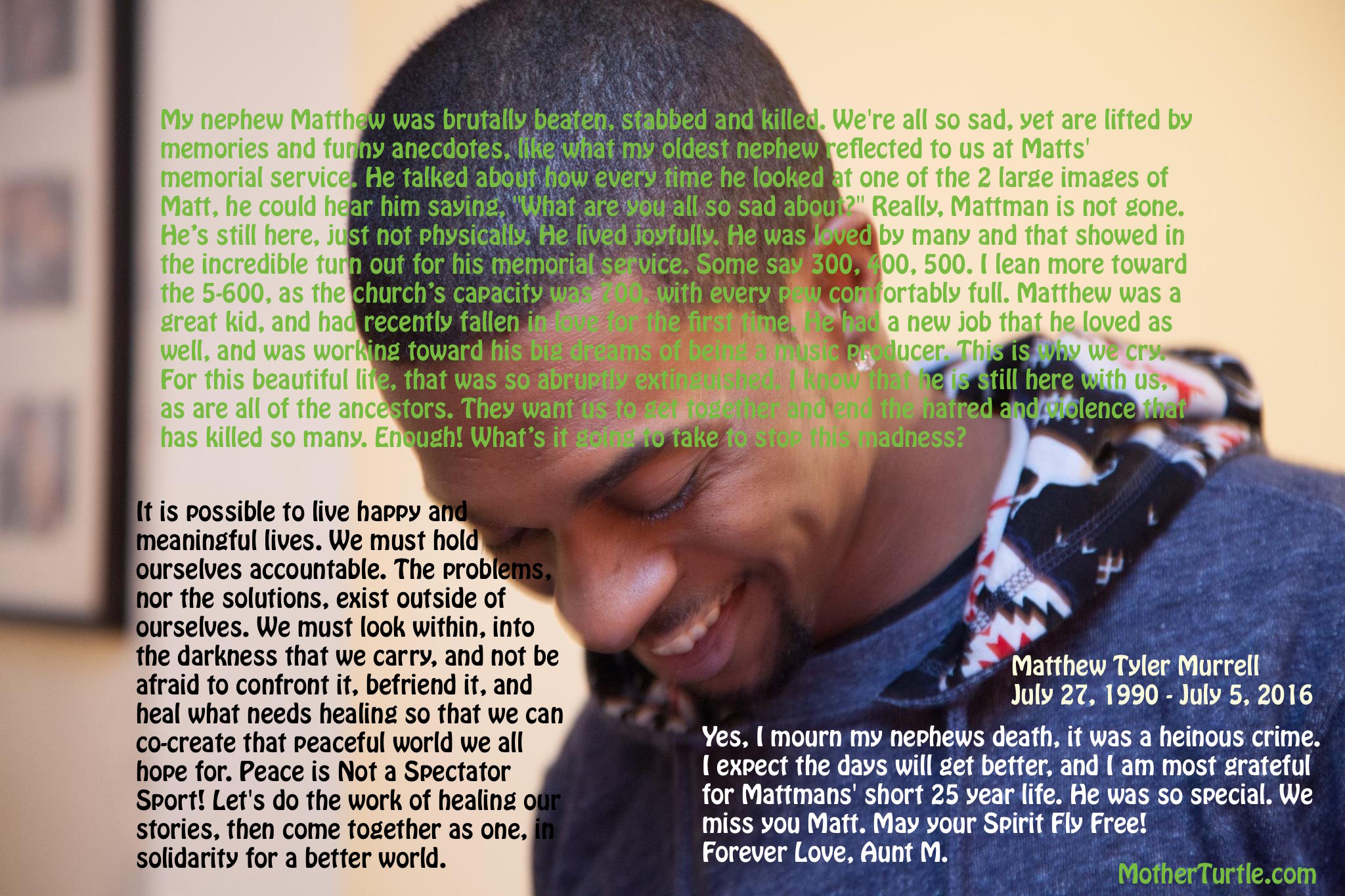 My nephew Matthew was brutally beaten, and killed. We're all so sad, yet are lifted by memories and funny anecdotes, like what my oldest nephew reflected to us at Matts' memorial service. He talked about how every time he looked at one of the 2 large images of Matt, he could hear him saying, "What are you all so sad about?" Really, Mattman is not gone. He's still here, just not physically. He lived joyfully. He was loved by many and that showed in the incredible turn out for his memorial service. Some say 300, 400, 500. I lean more toward the 5-600, as the church's capacity was 700, with every pew comfortably full. Matthew was a great kid, and had recently fallen in love for the first time. He had a new job that he loved as well, and was working toward his big dreams of being a music producer. This is why we cry. For this beautiful life, that was so abruptly extinguished. I know that he is still here with us, as are all of the ancestors. They want us to get together and end the hatred and violence that has killed so many. Enough. What's it going to take to stop this madness? 
It is possible to live happy and meaningful lives. We must hold ourselves accountable. No problem, nor solution, exists outside of ourselves. We must look within, into the darkness that we carry, and not be afraid to confront it, shine a light on it, befriend it, and heal what needs healing so that we can co-create that peaceful world we all hope for. Peace is not a spectator sport! Let's do the work of healing our stories, then come together as one, in solidarity for a better world.  
Matthew Tyler Murrell 
July 27, 1990 - July 5, 2016 
Yes, I mourn my nephews death, it was a heinous crime. I expect the days will get better, and I am most grateful for Mattmans' short 25 year life. He was so special. We miss you Matthew. May your Spirit Fly Free! Forever Love, Aunt M.